Iyad Rimawi is a Syrian music composer, songwriter, and producer. He started playing the guitar at the age of 12, and by the time he was 14, he was already composing his own songs and music.
He went to the University of Damascus to Study mechanical engineering, and through the years of college, he formed various folk, pop, rock and oriental music bands.
In 1995, he formed the famous pioneering Syrian band "Kulna sawa" with five other members. The band signed with EMI music, and had several hit songs that gained them wide popularity in the Arab world. With Kulna Sawa, Rimawi toured the Middle East, Europe, and the USA, where they received an award for peace after their performance at the United Nations headquarters in New York.
Rimawi wrote the lyrics and music for most of Kulna Sawa's songs and was the main producer for the band's albums: Safinet Noh (Noah's arc) 1998 – Shi Jdeed (New Stuff) 1999 – Musaique 2004 – Kulna Sawa Radio Station 2009.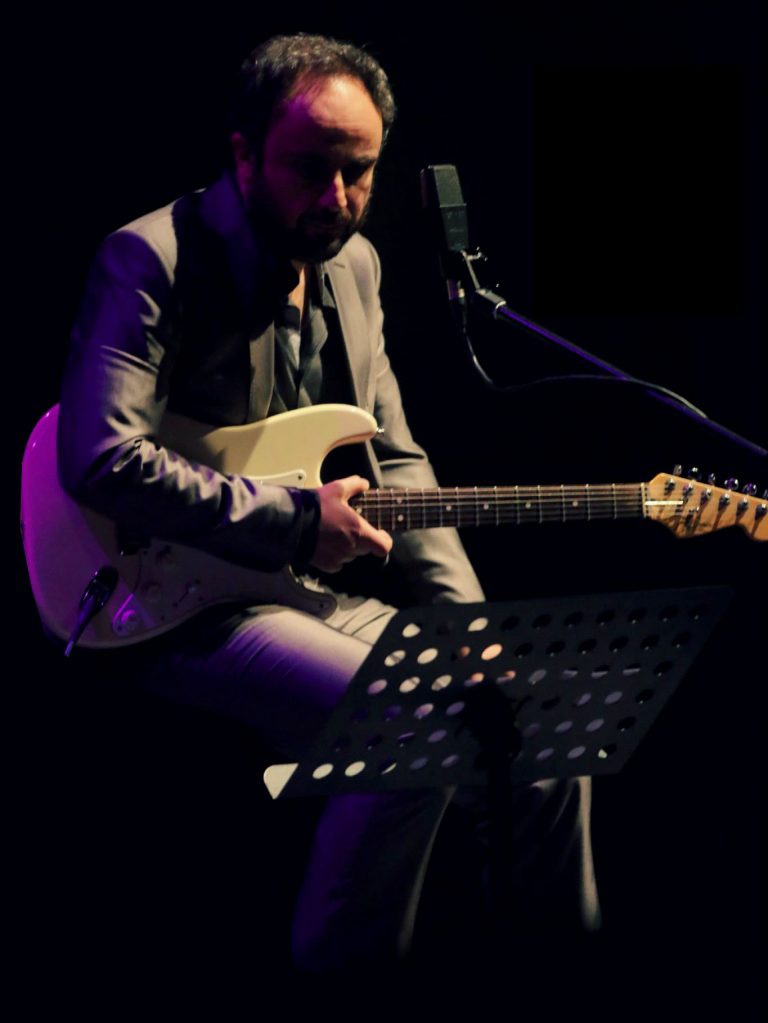 In 2001, he built his own recording studio (Rimawi Studio), and started composing, arranging, and producing music for some of the biggest TV series in the Arab world, such as: Saif Bin Thee Yazan 2003- Maraya 2006 – Jrn Alshaweesh 2007 – Men Wanted 2009 – After The Fall 2010, , Al Ghofran (Forgiveness) 2011 – Hawameer al sahraa 2012 -, Death Game 2013 – Revealing silence 2013, Lau( If Only) 2014 – Debbo Alshanatee (Pack The Bags) 2014 – Alam homra (Rouge) 2014 – Godfather(Orient Club) 2015 – Cello 2015 – 24 carat 2015 – Samra 2016 – Ya Ret 2016 – Nadam 2016 – Orkidia 2017 – Windows 2018 – Farmers Revolution 2018 – Ma Fiyi 2019 – Safe Distance 2019 – Haramlek 2019 – Awlad Adam 2020 – Souq Al Harir 2020.
His melodic and touching scores, with their unique fusion of oriental and classical elements, combined with modern vibes and band elements, resulted of unforgettable themes that gained him his well-deserved reputation as one of the most talented Arab composers today.
Rimawi was the first Arab artist to sign with Sony Music Middle East In 2012, with his First Solo album (Tales from Damascus 2012). The album was a compilation of some of his best main title themes and songs. It reached number 2 in the Virgin megastores Middle East chart.
In 2016, he released his second solo album (Silence in Syria) and went straight to number 1 in the Virgin Middle East Chart, The album stayed for 3 months in a row at number 1, in an unprecedented event in the Arab music Scene. In 2018, he released his third solo album, Damascus Now, the album was produced in a time of hardship and war in Syria which has been reflected in his music.
In 2015 Rimawi performed a concert in Damascus Opera House where he brought back the music scene to Syria. then in 2017, he toured three major Syrian cities, Damascus, Aleppo and Latakia, all three concerts were sold out. And in 2018, he is the first Arab musician to perform in Dubai World Trade Centre Arena, the largest indoor venue in the Middle East. The concert was titled as "Love Letters from Damascus 2018".